Surf lessons in Biarritz at the Grande Plage
Take a course of surfing lessons or hire a surfboard, wetsuit or bodyboard at Plums in Biarritz.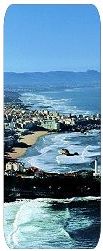 Plums is part of the history of surfing in France. André Plumcoq was one of the original "Tontons Surfeurs" the guys that first surfed the waves at the Côte des Basques in the beginning of the Sixties. Several years passed and when surfing began to develop in France, André opened one of the first surfshops in Biarritz on the Place Clemenceau.
His two sons, Marc et Christian, grew up sharing his love of the ocean and both went on to win several French and European Surfing Championships.
Today, Marc Plumcoq, European Longboard Champion in '91, runs the Plums Surf School and will accompany you through the week of your surfing course in the waves on the Côte Basque.
Come and surf with us